On
Thursday(22/10/2014)
Google put a new doodle mentioning the one month completion of "MANGALYAAN" in Mars orbit. Google often put doodle in a animated style but this time a static image was used with a satellite revolving outer the orbit.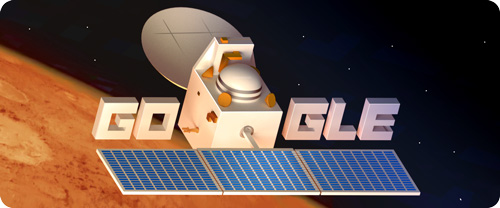 Mangalyaan was launced into space on
November 5th 2013
and it entered the MARS orbit on
September 24 2014
. This was a great achievement for India and lifted the ISRO to a great level.
Our Prime Minister Narendra Modi stated that
"History has been created today. We have achieved the near impossible. I congratulate all ISRO scientists and all my fellow Indians on this historic achievement"
on the day Mangalyaan entered the Mars orbit.
"The odds were stacked against us. Of the 51 missions attempted across the world so far, a mere 21 had succeeded"
As it reaches the MARS orbit it sent many pictures which has been shared more and the world turns its head on India.
The Mangalyaan twitter account has reached over
1,68,000
followers upto date.